Inspired by the incredible ability of the human voice, Elizabeth McDonald has created a burgeoning career as a teacher of singers in Canada. A member of the voice faculty at the University of Toronto Faculty of Music, Elizabeth also spends time working with choirs and choral directors as well as continuing to perform across North America.
Elizabeth's students are having diverse and exciting careers. Scroll down for recent news and highlights!
Read a recent interview in SCHMOPERA Elizabeth gave as part of their their Voice Teacher Series.
Pragmatic in her teaching style and a champion of individualism in her students, McDonald spoke with us about empowering singers, the elusive idea of "support", and her systematic approach to selecting repertoire.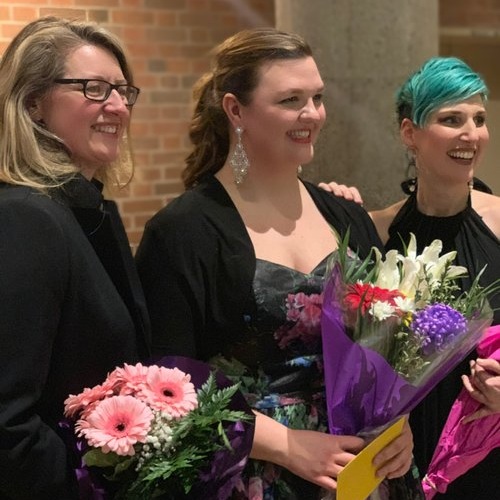 STUDENT NEWS
OCTOBER 2019
Students of the 2019-20 UofT Voice Studio will be featured at the WestBen Clocktower in a series called "New Now: U of T Singers First-Friday Lunchtime Tick Talk".

Soprano Caroline Stanczyck (MusBacPerf 2019) will be a featured performer with the Celebrity Symphony Orchestra in works of Polish composer Stanisław Moniuszko (1819–1872). Tickets here.
JULY 2019
Mezzo Emily D'Angelo (MusBacPerf 2016) makes her Santa Fe Opera debut as Dorabella in Mozart's Cosi fan Tutte
Mezzo Soprano Olivia Guselle (MusBacPerf 2021) makes her Saskatoon Opera debut as Prince Orlofsky in J. Strass' Die Fledermaus.
JUNE 2019
Soprano Gabrielle Turgeon (MusBacPerf 2022) wins the Diploma Class of the 2019 Ontario Music Festival Association.
Mezzo Soprano Olivia Guselle (MusBacPerf 2021) and soprano Emma Johnson (MusBacPerf 2016) both win the Saskatchewan Provincial Music Festival and will compete at the 2019 National Music Festival.
Sopranos Avery Lafrentz (MusBacPerf 2019) and Caroline Stanczyck (MusBacPerf 2019) are Fellows at SongFest at the Colbourn School
MAY - JUNE 2019
Soprano Alexandra Smither (MusBacPerf 2014) performs two concerts in Toronto with the Canadian Art Song Project as part of the RBA Series, premiers The Last Dream of Frida and Diego at Fort Worth Opera and spends June at the Banff Centre as part of the Opera in the 21st C residency.
JANUARY 1, 2019
Tenor Conor Murphy (MusBacPerf 2016) joins the International Magic Tenors for a 2019 Tour of Germany. For tickets and more information click here.
DECEMBER 19, 2018
Emily D'Angelo (MusBacPerf 2016) Makes her Metropolitan Opera Debut as Second Lady in Mozart's Magic Flute and returns March 30, 2019 as Annio in Mozart's La Clemenza di Tito. For more details visit the MET website
MAY 24, 2018
Yvette Coleman (MusBacPerf 2014) drops her most recent single "Fortune" as Saint Yves Band. The song hit the Top 50 Canadian tracks that same week on Spotify.
Keeping her eye on the prize…
A telling interview with UofT Alumna Emily D'Angelo (MusBacPerf 2016) in the Spring 2019 edition of Opera Canada Magazine.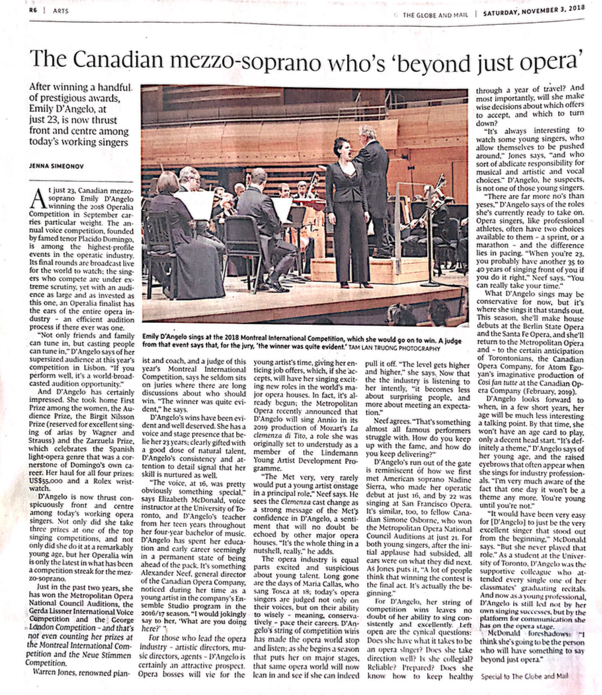 This feature article on Canadian mezzo soprano
Emily D'Angelo was published in the Globe and Mail on November 3, 2018.
The UofT Faculty of Music turns 100
Soprano Alexandra Smither is quoted in the November 2018 edition of La Scena Musicale on how her experience at UofT made her a better artist.